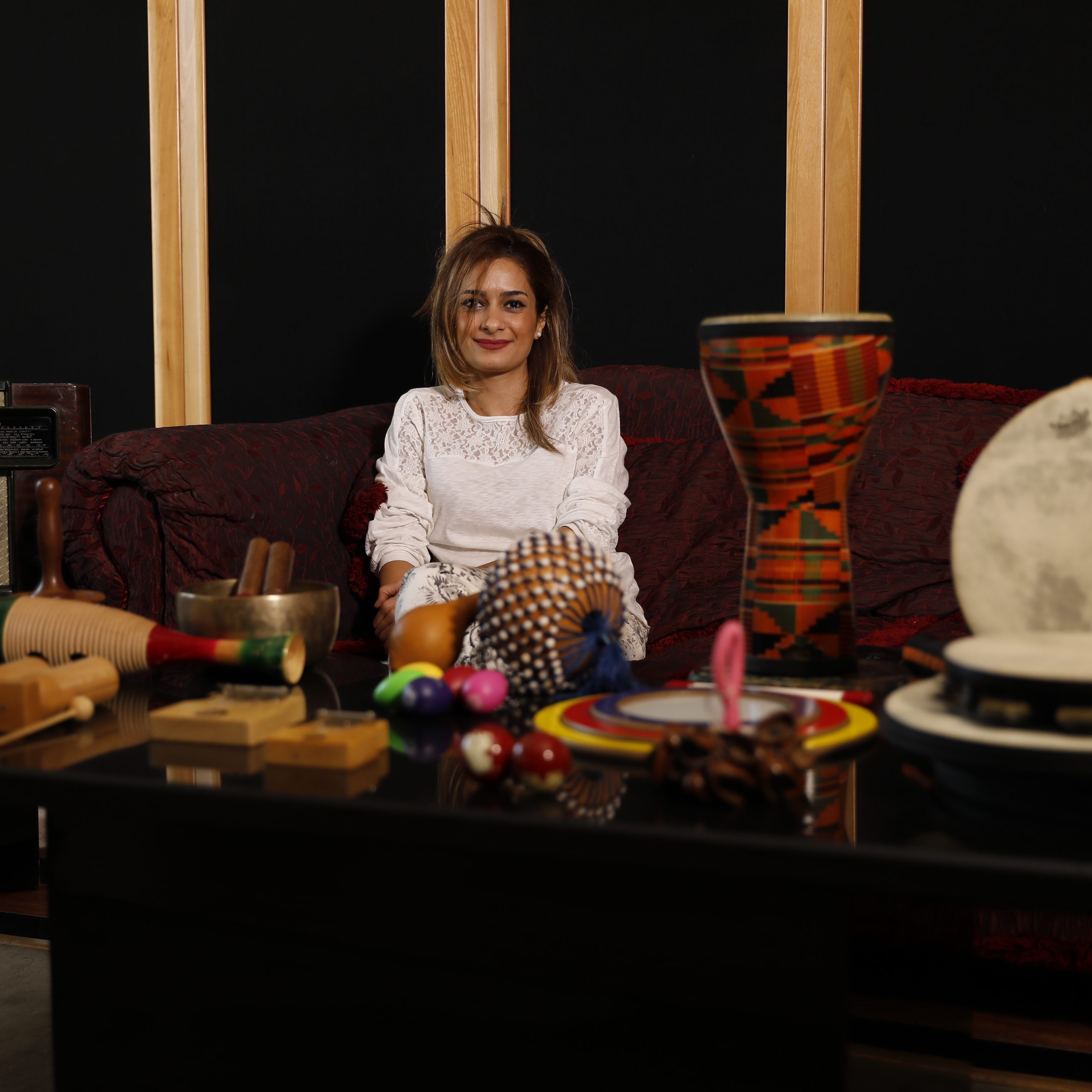 "Bahareh Moghtadaei eloquently combines her talents as a world-renowned percussionist and skills as a trained and board-certified music therapist to provide exemplary services- across the spectrum of music- for the audiences that she performs for and the clients with whom she works. Percussion is a fundamental component of music and foundational element of neurological and physiological function, hence positioning it to be a core competency for music therapy professional training and clinical application. In addition to percussion, Bahareh's musical skills cover a wide array of instrument proficiency, allowing her to work with people of all ages and all walks of life in her practice as a music therapist. She is truly an artist; whether you are consuming her music for enjoyment or receiving it as part of clinical treatment, she creates beautiful and functional pieces of music by painting an array sounds on the canvas of silence using inspired colors, textures, talent, and love."
~Rebecca Vaudreuil, EdM, MT-BC Board-Certified Neurologic Music Therapist
---
I met Bahareh 18 years ago, we met through family as our mothers went to art school together. During our friendship I became familiar with her passion for music and her deep talent with her instruments, mainly percussion. I learned she was a true child protege of percussion and played with the greats, all decades and decades older than her with more experience but looked at her as their peer and equal, and even as master percussionist. Although she's able to play almost every musical instrument imaginable, (and has played them for us on many occasions) when she plays percussion she somehow goes into your soul with her beats and grabs hold of your attention by her incredibly captivating and hypnotic talent. Her percussion is something natural and tribal but in a sense also very classical and elegant, heartwarming, captivating and calming. When she decided to become a music therapist I couldn't think of a better person to be a therapist through music, because just by listening to her as a friend I experienced the therapy she is capable of. She is both a true artist and a compassionate therapist.
~Golriz Tavakoli-Moeini
---
Bahareh is both a talented percussionist and a compassionate music therapist. Her quest for music took her beyond great obstacles in her homeland of Iran, to bring ancient Persian musical concepts into the modern quest for health, healing, and personal transformation. I highly recommend her.
~Christine Stevens, author, Music Medicine, founder UpBeat Drum Circles
---
Bahareh Moghtadaei is a true Gem; The likes of whom you see once in a lifetime. She started playing Music when she was 3 years old. Her first instrument was Tonbak(A persian percussion instrument) She has been trained by some of the most renowned Masters of this instrument and become a Master in her own rights.She has a B.A degree in Music from Sooreh University and a Masters degree in Music Therapy from Northridge University.She is a very skilled percussionist and she has performed in concerts in this capacity all over the world to critical acclaim.She is also an accredited Music Therapist who has been working in this field for many years. But it is her Humility;kindness and compassion that make her a truly unique and exceptional human being.
~Vafa Farmanara
---
Ms. Moghtadaei is a fantastic Tonbak player and versatile percussionist. I had the pleasure of having her on a few concerts back in 2012-2013. Her knowledge of Persian classical rhythmic patterns are outstanding.
~Mamak Khadem
---
Bahareh is a very compassionate, caring, and highly skilled musician/artist. She brings her heart and soul out in each and every performance. I believe she has mastered the Tombak. I am always delighted when we have a performance together.
~Rick Brandt
---
Baharah is a consummate professional, both as a performer, and as a music therapist. Her accomplishments in both areas of her work and her passion have been many, and in all my interactions with her she has held the highest standards of integrity and intention.
~John Fitzgerald -Manager, Recreational Music Activities at REMO
---
Bahareh is an excellent music therapist & a most talented percussionist. She Comes from an artistic family and is an artist by nature . I am an avid follower of her work & have attended a number of her concerts . Seeing her play is a feast for the eyes & soul.
She is a great vocalist with smooth , warm & silky voice . In one word she is a gifted musicians .
~Hida Shayegan
---
Bahareh is a leader. Smart, talented, humble, authentic, her work as a performer, music therapist and drum circle facilitator engages her audiences and inspires her peers. Her unique ability to blend the ancient with the modern is setting new standards and creating a new class of drum artists.

~David Levine
Executive Director Hit Like A Girl Contest & Drum Summit/President Full Circle Management
---
I believe most of us experience the influence music has on our moods from exhilaration, to relaxation, from annoyance to intoxication . Ostad Moghtadaei has developed unique approaches using practiced skills to raise music listening to a precise therapeutic healing tool for her students, patients and clients. From the tenderest of ages Bahareh studied with Grand Masters of Persia on diverse global and regional drums, stringed and wind instruments, continuing on with certification and degrees at university level. In my experience percussion and rhythm seem foundational in all music cultures in all times and locations. Simply or deeply listening to the virtuoso recordings of Moghtadaei that draw from the most ancient to most futuristic vibrations and beats, one feels a unique transcendent response … perhaps "hard wired" into our biological and spiritual reality we all share as humans. Each of us seeks the mysterious, often elusive sense of peace and wellbeing in stressful times. We often look to pharmaceutical solutions or traditional proven therapy. This progressive, contemporary approach to music therapy in the hands of the experienced expertise of Ostad Moghtadaei , certainly offers all incalculable fruits of joy , realignment and healing that all can embrace and relish and wonderfully integrated into any and all lifestyles and therapeutic practices.
~Larri
---
As an Iranian woman musician who works hard to preserve and display our culture and music I am so proud of the strong women of our country. My dear friend Bahareh moghtadaei is one of those strong woman who performs with an amazing technique and makes it better with her soul and her love.
~Golnaz Khazei
---
Bahreh Moghtadaei is a highly talented percussionist with a special musical sonority on a wide range of instruments.
~Shahrokh Yadegari Professor, Music Department University of California, San Diego. Director of Sonic Arts R&D and IDEAS/Qualcomm Institute
---
Bahareh Moghtadaei is the closest thing I've personally witnessed as a musical genius. Besides having tremendous knowledge of the instruments she plays, Bahareh is also passionate about the history and future of music. She has used everything she's learned for good, as a successful musical therapist she has helped heal so many of her patients. Bahareh has patients from all different backgrounds and ages with all kinds of mental and physical challenges. I've personally used her drum circles as a type of meditation and it's helped me heal from my struggles with PTSD. Put all those successes aside, Bahareh Moghtadaei is humble, kind, and passionate about her craft.
~Delara Farmanara
---
Bahareh is one of the most passionate music therapist I've met. Hearing her projects and her success is just heart warming . Her knowledge in music and percussion instruments is unbelievable and broad. Her fingers are mesmerizing when playing Tonbak and her tunes of daf if out of this world .
~Dorin Raffi
---
"Bahareh makes the difficult look easy when playing percussion. She executes technically difficult music with grace and musicality."

~Tim Ringgold, MT-BC
---
"Bahareh is an exceptional musician and a true professional. Her playing is sensitive and soulful, and she adapts to different styles of music with ease. She is a pleasure to work with in the studio."   
~Natasha Wood
---
Bahareh is bright and an outstanding musician. She is one of the most exquisite percussionists I have ever had the opportunity to experience in my lifetime. She has an incredible work ethic: conscientious, inquisitive, reliable, and focused. As a clinician, Bahareh is warm, sensitive, and genuine in all her interactions. She is passionate and creative and will work with individuals and groups to achieve appropriate clinical outcomes. I can't say enough about this incredible young professional. You will be blessed to work with her no matter in what capacity: music therapist, percussionist, educator, or wellness facilitator.
~Barbara Reuer, PhD, MT-BC CEO/Founder of MusicWorx Inc.
Please Leave a Testimonial
'Music expresses that which cannot be said and on which it is impossible to be silent. .'